SmartSkin™ Benefits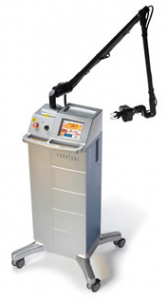 The SmartSkin™ CO2 laser treatment is designed to rejuvenate specific areas of skin that are affected by a range
of aesthetic issues. Using light energy, the SmartSkin™ laser is capable of providing a number of benefits in a quick procedure that involves no surgery, minimal discomfort, and typically results in minimal recovery time. Benefits of this facial resurfacing procedure include:
Reduction in the appearance of wrinkles and fine lines
Reduction in the appearance of age spots
Reduction in the appearance of sun damage
Improved skin tone and texture
Stimulation of collagen for healthier skin growth
Dr. Bridges will meet with you in an initial consultation to discuss your goals and talk with you about all aspects of SmartSkin™ CO2 fractional laser treatment. He will review with you the Bridges Accumulative Age Layering Matrix™ to better define the layers of aging that are best treated by this or other options.   Together, you and Dr. Bridges can decide if this procedure is the best option for your needs.  Dr. Bridges will use customized settings and personally perform the facial resurfacing procedure at his Shreveport LA office.  Dr. Bridges does not believe a nurse or technician should be doing this procedure.
The SmartSkin Procedure:  The SmartSkin™ CO2 laser procedure typically begins with a topical anesthetic applied to the area targeted for treatment so that you will feel as comfortable as possible. Then, the laser scanner will be gently waved over the targeted areas, emitting small pulses of energy that helps to rejuvenate the outer layers of skin and stimulate the growth of underlying collagen.
The entire SmartSkin™ CO2 laser procedure usually takes less than 30 minutes to complete. Patients will likely experience a feeling of a sunburn and some redness and crusting the first few days after treatment. Facial swelling can be expected if an aggressive approach is needed. Some of the effects of SmartSkin™ CO2 laser treatment are apparent right away, but patients will continue to see improvement and rejuvenation as the skin regenerates new collagen over a three to four month period.
To learn more about the SmartSkin™ laser skin resurfacing procedure, please contact us today at (318) 219-8555 or with the contact form.  Our staff will contact you within 1 business day to answer any of your questions and help you schedule a private facial resurfacing consultation with Dr. Bridges at his Shreveport LA office.