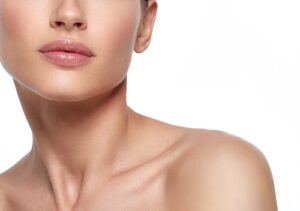 Fat underneath the chin and jaw is a big problem for many men and women. Some would say that the "selfie" trend has contributed to our awareness of facial fat, particularly in the neck area. Recently, the FDA approved KYBELLA®, an injectable designed to dissolve submental fat (underneath the chin) without the need for major surgery. While this sounds like a revolutionary solution for treating a "double chin," this treatment leaves a lot to be desired.
The Disadvantages of KYBELLA®
KYBELLA® is made from deoxycholic acid, a substance that is found in the human body. Deoxycholic acid is one of several bile salts stored in the gallbladder. The gallbladder squirts bile into the intestines to break up fat globules during the digestive process. The fat is then broken down by enzymes and absorbed. When injected into submental fat, KYBELLA® dissolves the targeted fat cells so that they can be metabolized naturally.
Side Effects
Once the cells break down, the liquid fat ends up in the surrounding tissue. This is both good and bad. The good part is that it eventually leaves the area. The bad news is that the liquid fat can irritate the surrounding tissues, resulting in significant swelling, firmness, bruising, and discomfort for at least one week, if not longer. Some patients experience nerve damage, which can cause lip distortion, and others had problems swallowing. Fortunately, most of the issues resolved in six weeks, but these problems can last up to nine months.
Multiple Treatments
One treatment of KYBELLA® is not effective for most people. Some need two to four 30-minute treatments, but many patients need up to six sessions to see a noticeable improvement. Sessions are performed sequentially about every six weeks until results are satisfactory.
Potential for Scarring
Because KYBELLA® is a new treatment, there is little information about its long-term effects. A great deal of inflammation occurs after KYBELLA® treatment, so it would not be surprising if it resulted in the development of scar tissue. If the patient wanted to undergo a facelift procedure in the future, scar tissue would make the surgery much more challenging.
Classic Approaches to Neck Contouring
Although KYBELLA® is an advancement in neck contouring, patients with moderate to severe fat deposits can achieve better results with surgery. Currently, liposculpting and Smartlipo are some of the most advanced methods for removing neck fat and creating a sculpted jawline. If a patient is also concerned about excess neck skin, then a facelift might be a better option. You should contact a board-certified plastic surgeon with a keen understanding of facial anatomy to review your options so that you can achieve the aesthetic you desire.
To learn more about how to eliminate neck fat, please fill out our online contact form. You can also schedule a private consultation with Dr. Bridges by calling our office at 318.219.8555 or 888.305.6693.