Board Certified Plastic Surgeon R. McIntyre Bridges, Jr. MD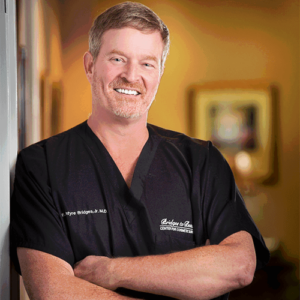 Dr. Bridges is the highly skilled cosmetic surgeon and director of Bridges to Beauty. Dr. Bridges specializes in cosmetic surgery, advanced injection techniques and laser therapy and the most up to date age management medicine in Shreveport, Louisiana.
He received his undergraduate degree from Texas Christian University in 1979. He then earn his medical degree from the nationally respected Duke University Medical Center in Durham, North Carolina. While at Duke he performed cutting edge research to combat melanoma with immunotherapy. Dr. Bridges completed a General Surgery residency program at LSU Medical Center in Shreveport as well as a one year Burn Research Fellowship studying burn immunology. In 1991 he received a nationally recognized Board Certification in General Surgery.
Dr. Bridges completed his Plastic, Reconstructive and Cosmetic Surgery Residency at the University of Virginia in Charlottesville Virginia in 1991, He then completed a Hand and Burn Fellowship in 1992. The Department of Plastic Surgery is nationally known for cranial facial reconstruction, burn research and for advance microvascular and hand surgery. Dr. Bridges then received his Board Certification in Plastic and Reconstructive Surgery.  – read more –

Allergan Top 500 Practice
2017

Cosmopolitan Magazine
Outstanding Plastic Surgeons of Louisiana
2013

Shreveport Times
Best Cosmetic Surgeon Award
2012
2011

Locals Love Us Awards
Best in Cosmetic Procedures
2017-2018
2016-2017
2014-2015

SB Magazine
Best Doctors of Plastic Surgery
2018
2017
2013

Louisiana Life Magazine
Face of Plastic Surgery
Nov.-Dec. 2014
VIEW BEFORE & AFTER GALLERY
Questions about a procedure? Interested in a consultation?
"The Smartlipo was the best decision I made this year!  My awful  thighs and muffin tops are gone.  Importantly I chose  Dr. Bridges because he is a board certified plastic surgeon with 25 years experience and he has an excellent reputation.  His staff and wife could not have been kinder.  Dr. Bridges is such a kind soul and excellent plastic surgeon.  Thank you!"
"What a difference the upper eyelid surgery made.  Thanks, Doc!"
To the awesome staff at Bridges to Beauty, I weighed this morning and I'm 12 pounds to my goal. Couldn't have done it without you! – LP.
Satisfied Client – Shreveport
Hi Brittney, I looooove the effects of the micro needling. My skin has improved tremendously and even the chicken pox scar on my forehead looks a little better. Absolutely amazing. Thank you again so much for recommending this treatment. Best thing EVER!!! 💁👩🏼
"I'm very happy with my tummy tuck.  My tummy tuck is awesome.  I'm a hair dresser and I've seen many of my client's tummy tuck.  My clients are amazed at my result and not so happy with theirs.  Dr. Bridges made me so happy!"
"Twenty-five pounds in three months and still losing.  Ideal Protein has changed my life.   Thank you Dr. Bridges and Rachel!"
"I give a special thank to Dr. Bridges and his staff.   Thank you for your excellent support during my breast augmentation.   Originally I was a bit fearful but but your consultation was very clear and spot on and I knew what to expect.   It really has been a great experience."
 "After seeing two other plastic surgeons I saw Dr. Bridges.  It was the friendliest visit I had.  My husband and I didn't feel rushed and it was such a great consultation.  I love my Mommy Makeover, he delivered what the other plastic surgeon said they couldn't."
"Dr. Bridges's staff is wonderful.  I was treated like a friend.  My mommy makeover was better than I could have ever expected.  I'd highly recommend Dr. Bridges. "